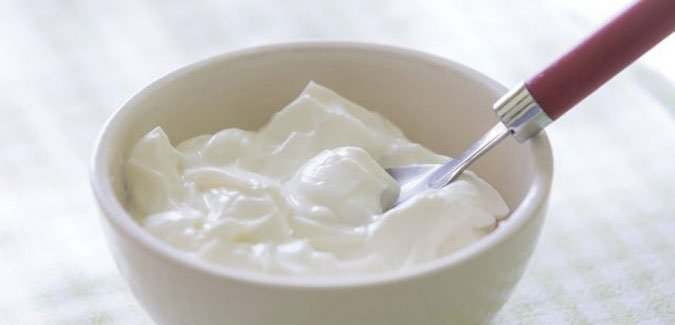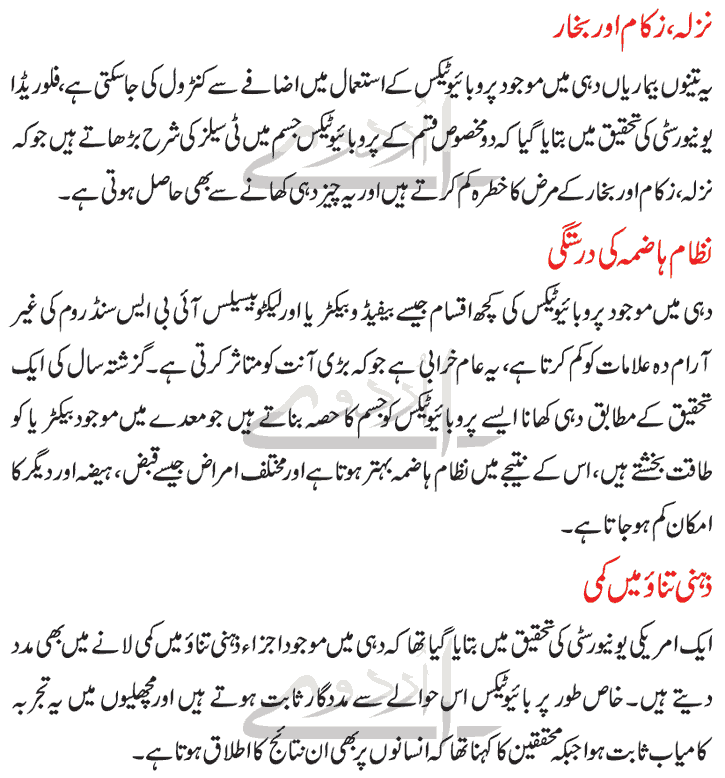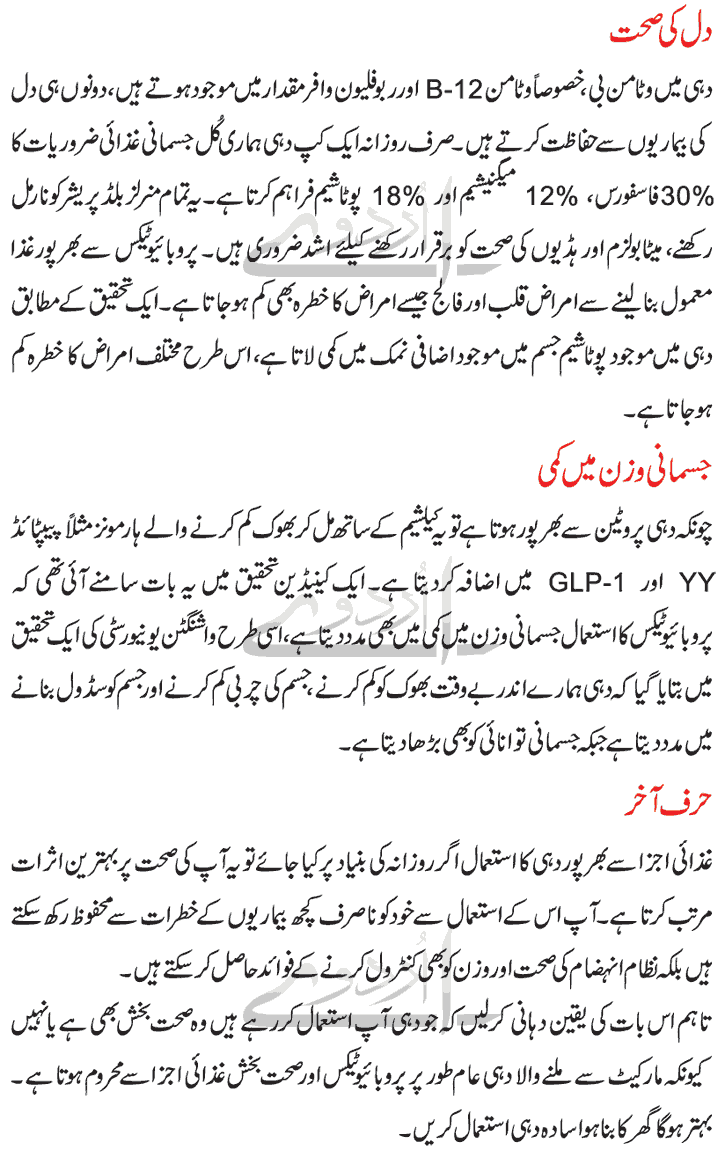 Benefits of Yogurt - Dahi K Faiday
Before talking about the benefits of yogurt or Dahi k Faiday, you should keep in mind this highly nutritious and healthful substance comes from milk. Milk carries a plethora of health benefitsfor the humans and a newborn is given mother's milk as the sole diet and scientists have been unable to provide a better alternative to milk.
Every year more and more research is being published that adds insight into the health benefits that come from eating yogurt.
You can have an idea about the amazing benefits of yogurt from the fact that taking an ounce of it will provide you with 9 grams of animal protein and several other nutrients, including calcium, magnesium, potassium, vitamin B-2 and vitamin B-12. At the same time, the friendly bacteria or good bacteria found in the yogurt can not only promote a healthy digestive tract but also help boost the immune system of your body.
Owing to the impressive benefits of this dairy product, many health-conscious individuals eat it on daily basis.
Listed below are some of the important science-based health benefits of yogurt or Dahi k Faiday:
A Nutritious Diet: The first and foremost advantage of eating yogurt is that it is a nutritious diet, providing your body with proteins, vitamins, minerals and other important nutrients.

For example, being a rich source of calcium, just one cup of yogurt provides nearly fifty percent of your daily calcium needs. The B vitamins, particularly B-2 and B-12, give protection against cardiac disorders and certain neural tube birth defects.

Appetite Regulation: Yogurt is a rich source of protein.And taking enough protein helps in the regulation of appetite by increasing the synthesis of hormones that signal fullness. So, the number of calories you consume overall may be automatically reduced, which helps to control the weight.

Strengthening Immune System: The consumption of yogurt on a routine basis may help strengthen your immune system, thereby reducing the risk of contracting an illness. The trace minerals like zinc, magnesium and selenium render this dairy product the immune-enhancing properties.

Moreover, the probiotics or friendly bacteria present in it reduce inflammation linked with several health conditions ranging from gut disorders to viral infections.

Protection Against Osteoporosis: Some of the key nutrients in the yogurt, like calcium, potassium, phosphorus, protein and vitamin D, are essential for maintaining bone health. These vitamins and minerals also help to prevent osteoporosis.

Common in the elderly individuals, osteoporosis is a condition which involves the weakening of bones.

Heart Health: While there is no clear evidence that the fat present in yogurt is harmful to your health, the modern research shows that the consumption of yogurt may benefit heart health.
Some studies have also shown that the intake of whole-milk products containing saturated fat boosts up the "good" HDL cholesterol levels in the body which reduces the risk of contracting a cardiac disorder.
At the same time, yogurt and other dairy products have been shown to help reduce high blood pressure which is a major risk factor for heart disease.